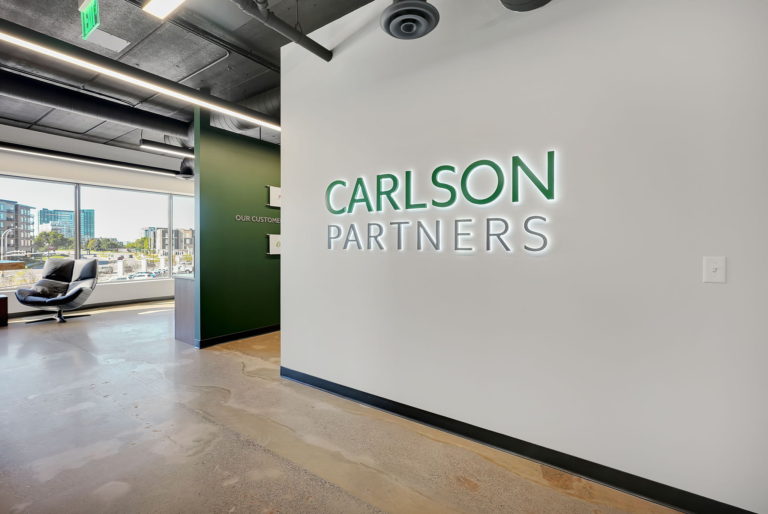 Carlson Partners Relocates to New and Upgraded Headquarters
Because of continued growth since launching in 2011, Carlson Partners has relocated its headquarters to a new, larger office space in Edina, Minnesota's, Southdale Professional Center. The commercial real estat firm is now located at 6550 York Ave., Suite 207, Edina, MN 55435. It was previously at 4530 West 77th St., also in its home base of Edina.
The relocation comes at a pivotal time in Carlson Partners' history. The firm, which specializes in tenant representation, is celebrating its first decade in business supporting organizations of all sizes and industry sectors, including healthcare, engineering, construction, hospitality, financial services, retail, education, IT and technology, manufacturing and more.
"This is an exciting move," said Ted Carlson, president of Carlson Partners. "It will further elevate our ability to meet clients' needs. Our modern, state-of-the-art workspace will bring the most collaborative communication tools to our brokers' fingertips."
He added that the larger space (an increase of one-third) can accommodate expected growth. Within the next year, the firm plans to expand its business by adding additional brokers and internal operations employees.
A Model Office Space with Post-COVID Amenities
Carlson said the firm's new office includes what many current commercial real estate clients are seeking in the post-COVID office industry:
Open concept floor plan to encourage collaboration
Human-scale features like drop-down wooden ceilings and semi-private spaces
Ample natural light with floor-to-ceiling windows
Casual areas for employees to lounge and dine
Sit-stand desks
Remote communication tools, like new TV monitors and high-speed video capability
Personal desk areas with several computer monitors for multi-tasking
Flexible configurations
Carlson Partners' strategic relocation process replicates what their firm has accomplished for numerous clients over the past decade.
"Ultimately, every company has to decide what space is right for them. We help our clients fully understand their best options within the marketplace, such as budget, location, amenities, supply and demand, branding and more," Carlson concluded.